Pearl Pirie and Kunundrum at the Muses Reading Series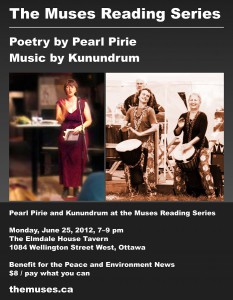 Monday, June 25, 2012, 7–9 pm
The Elmdale House Tavern
1084 Wellington Street West, Ottawa Map »
Poetry by Pearl Pirie
Music by the percussion group Kunundrum
$8 / pay what you can
Benefit for the Peace and Environment News.
Brought to you by The Muses Reading Series. For more information contact Mike Buckthought at helios –at– ncf.ca.
RSVP to the Facebook event and invite your friends.
Featured readers and musicians:
---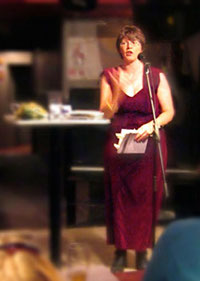 Pearl Pirie's poetry has appeared in more places than she has. She has two collections and edits phafours press which most recently published in air/air out: 21 poets for the Guatemala Stove Project. She is the author of been shed bore (Chaudiere Books, 2010), and her manuscript Thirsts won the 2011 Robert Kroetsch Award for Innovative Poetry. Her poetry appears in numerous publications including Arc, Bywords and Ottawater.
---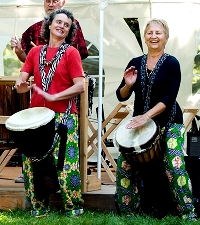 Kunundrum is a percussion group based in Ottawa.
Not to be missed! Kunundrum will get you dancing to the rhythms and songs of West Africa, Cuba and Haiti.
---
Photos by Brian Pirie and Barry Thoms.
---